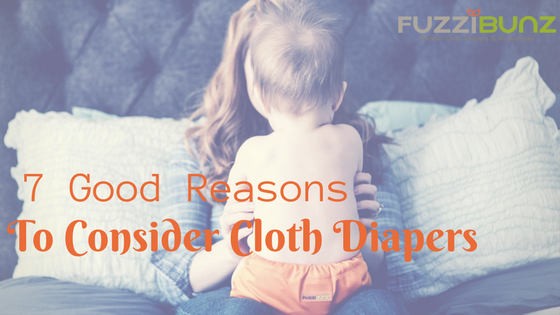 If the first thing you think of when you think of cloth diapers is extra work and a lot of poop you are not alone. But the reality of what cloth diapers are really like today might surprise you. We applaud you for even getting this far so that you can make an informed decision. We hope that we can convince you to use cloth diapers, but really all we want you to do is consider it. Here are the reasons why you should.
COMFORT:  Cloth Diapers are simply more comfortable for your baby. Can you imagine how uncomfortable being in a sanitary pad would be 24/7 for 2.5 years? Kinda gross right?! Well, disposables are not much different. With cloth diapers, either organic cotton materials or super soft fleece linings touch your baby's skin keeping them comfortable even when wet.
HEALTH: Everyone knows that disposable diapers are laden with chemicals, super absorbent polymers, bleaches, perfumes and who knows what else. Modern Cloth Diapers use high tech performance fabrics instead of chemicals to get the stay dry, absorbent and trim fitting features common in most disposable diapers. 
ENVIRONMENT: Here are some statistics for you. 1 TON of landfill waste is generated from just ONE baby in disposable diapers by the time they are potty trained. Those diapers will decompose (maybe) in about 500 years. Maybe cloth diapers of yesteryear took up a lot of water to wash, but not modern cloth diapers of today. Hand down cloth is the winner here and people are starting to take note. 
EASY: Yes, I said it. Cloth Diapers are EASY to use and easy to wash. With velcro and snap closures, fleece linings and all in one or pocket designs they are just as easy to use as a disposable. And its true,washing is just not a big deal. If you can wash a load of baby clothes, you can wash a load of diapers. The only difference here is you will be putting the poop where it belongs, in the toilet NOT in a landfill. 
STYLE: Have you seen all of the diaper styles out there? Cloth Diapers are a fashion statement like no other. Forget the bloomers and let baby show off their new diaper style, they will be the best dressed baby on the block! But beware, this part of cloth diapering can be addictive. 
BUDGET: It cost close to $3,000 to use disposable diapers by the time a baby is potty trained. You can get a whole supply of cloth diapers for LESS THAN $200! While cloth diaper brands vary greatly in price you can find a brand that is right for you that fits into any budget. Our Bundle Deals are a perfect example of how affordable cloth diapering can really be. 
GOOD JOB MOM: As parents we want to do what is best for our babies, even if it means sacrificing a little bit of our own convenience. When you hold your baby and pat that cute little cloth bottom you will know you have made the right decision and you will never look back. It is definitely a decision you will feel good about on ALL fronts. 
THANK YOU FOR CONSIDERING CLOTH DIAPERS