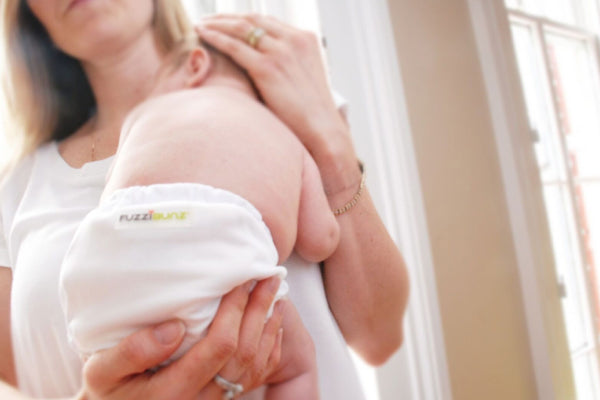 We get it! There are a TON of cloth diapers on the market and they ALL look the same. So WHY should you invest in FuzziBunz? Here are 11 reasons WHY.
VALUE - At the end of the day it comes down to the VALUE you are getting with FuzziBunz! At a $19.95 Retail Price, you are getting SO MUCH MORE than other brands. Just read on below to see exactly HOW much more! 
ORGANIC INSERTS - Most pocket diapers come standard with a microfiber insert or two. FuzziBunz come STANDARD  with a pre-shrunk and pre-prepped organic cotton / hemp insert. Other companies charge up to $7.00 more for organic inserts. 
REPLACEABLE ELASTIC - What's the big deal with that? Elastic in diapers does NOT last forever. After repeated washings it will give out and effect the lifespan of the diaper. With FuzziBunz, all you need is a set of replacement elastic ($1.50) and you can breath new life into your diapers!! No sewing, un-sewing or needing to buy new diapers! 
ADJUSTABILITY - Because of our buttonhole elastic adjustment system, you are getting FAR more adjustability than if you had rise snaps down the front. Not only do you get a more custom FIT, you get a clean look down the front of the diaper. 
FLEECE - The FuzziBunz fleece is an exceptionally soft, incredibly high quality fleece that is made to keep a baby dry. This is a far cry from the suede cloth of more cheaply made diapers. 
PRINTS - We don't charge EXTRA for our custom designed prints. Some companies charge $2.00 extra just to have a print. We don't. 
UNIQUE - To the naked eye all cloth diapers may look the same, but FuzziBunz is a unique brand in the market with all of the above listed qualities. 
FIRST YEAR - Our First Year diapers fill a unique niche in the cloth diaper market by providing all of the benefits of our Adjustable Elastic system with a newborn diaper. While newborn diapers only last a few months, you will get at least 12-18 months use out of our First Year diapers. 
QUALITY - All it takes is one good look at a FuzziBunz to see how it is heads and tails above other less expensive brands of diapers. They are worth every penny. 
THE EXTRA MILE - FuzziBunz has always, and continues to go the extra mile for their customers and their products. With our new 3 Point Leak protection we have taken steps to even further protect against leaks and make our products even better. 
SUPPORTING ENTREPRENEURSHIP - While this may not be high on everyone's list, when you purchase FuzziBunz you are supporting an American company and a woman and mother owned business. 
BUNDLE DEALS - Our bundle deals are an easy way to order with addd savings. 
So do we now have you convinced? If so, shop our bundles today!