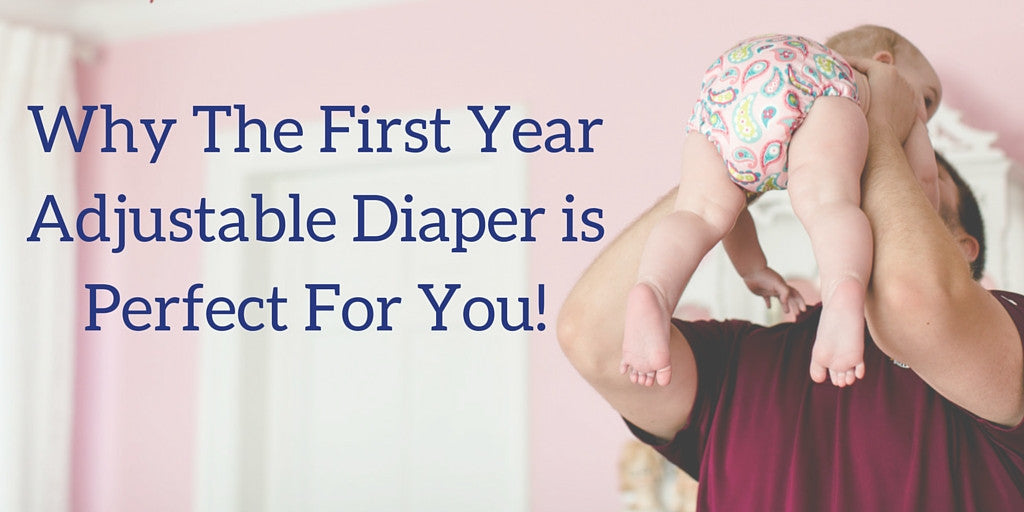 Many of our customers have expressed their sadness at the discontinuation of the Perfect Size FuzziBunz diaper. Some say that they truly do offer the "perfect fit:" trim and slim and easy to pop on and off. And we share your sadness, and agree that they were a great product, but there is a reason why the Perfect Size aren't selling anywhere near as well as our new First Year Adjustable diapers (which are now our best-selling diaper!).
Our First Year Adjustable diapers are designed to fit children from about 6 - 24 pounds, or approximately newborn - 18 months. This means that you are able to size the diapers to the equivalents of our Newborn Perfect Size, Small Perfect Size, and the smaller end of our Medium Perfect Size diapers! This also means that it will save you a lot of money since you don't have to keep sizing up like you would need to with our Perfect Size diapers.
The First Year Adjustable diapers are nice and trim in the crotch - no more spread-eagle babies who can't close their legs due to a bulky diaper! This also offers more flexibility to the kiddos who are starting to move and groove. They have the same super soft interior fleece, sturdy PUL, and strong snaps that the Perfect Size diapers do, with the added benefit of fitting your baby perfectly at multiple stages and sizes.
Our Adjustable diapers are the most customizable multi-size diapers in the industry, 3-times more to be exact! This is due to our Fantastic Elastic® system. The waist and leg elastics are fully adjustable to give your child the most perfect fit for his or her individual body type. This means security and protection against leaks. They are also fully removable so that when the elastics finally wear out, you don't have to throw the whole diaper away or spend frustrating amounts of time ripping seams and sewing new elastics in! Simply take the old elastics out, put fresh ones in, and your diaper comes back to springy, well-fitting life!
If you are unsure as to whether or not our First Year Adjustable diapers will work for you, now is a great time to try them at a fantastic price! Our 6-pack bundles are on sale and come with a free diaper tote. Check them out today!