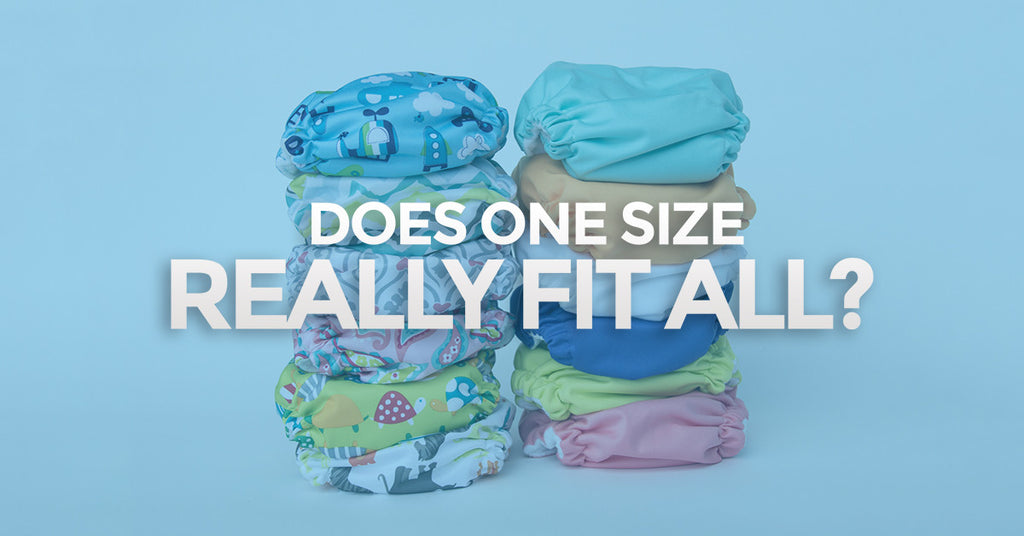 There are a lot of cloth diaper brands on the market today that offer One Size diapers. The majority of them are designed to fit children from the time they are born, up until the time they learn to use the toilet. This sounds great, right? I mean, think of how much money you're going to save if you only have to buy one set of diapers to last your child's entire diapering career?
But there are downsides to this design. To begin, in order to create a diaper that fits such a wide weight, size, and age range, the diaper's fabric content has to be such that it will comfortably fit the largest end of the aforementioned spectrum. What does that mean for newborns? BULK.
Many One Size diaper users find that the bulkiness of the diapers is bothersome, not only aesthetically, but practically. A tiny newborn baby wearing a diaper that potentially fits a 40 pound child is not likely going to be able to keep his/her legs together. The excess fabric will create a 'balloon" effect that could distort the position of the baby's hips and waist when lying down (which will be much of the time). These factors put together could potentially create a misalignment of the baby's growing body as well as general discomfort.
Additionally, other One Size diapers are designed with rows of snaps down the front of the diaper which you use to adjust the rise. While this design works, it also creates "folds" that many CD users find to be unattractive.
What is the solution? FuzziBunz First Year and One Size Adjustable diapering system. Two different styles, each designed to fit a specific weight/age range that offers a great fit while still saving you money.
Our Adjustable diapers are the only product with a fully-adjustable, fully-replaceable elastic system. By simply buttoning the waist and leg elastics to the recommended setting provided by our sizing guide, your child will receive a snug, secure fit with minimal bulk.
Our First Year Adjustable diapers are designed to fit children from approximately 6 - 24 pounds, or newborn - 18 months old. These diapers have a narrow crotch and a lower rise to ensure that newborns receive optimal comfort and security, and are great for children who are starting to move and groove!
Our One Size Adjustable diapers are designed to fit children from approximately 10 - 40 pounds, or 3 - 36 months. With a wider crotch and higher rise, children receive more coverage where they need it most, and a great fit that will last them until potty training.
While the idea of only having to buy one set of diapers for life is great in theory, the reality is that if you want a truly secure, comfortable fit for your child as a newborn, a babe, and a toddler, a "one size fits all" diaper is not likely to get the job done.
Check out our First Year and One Size Adjustable bundles for big savings and adorable styles!